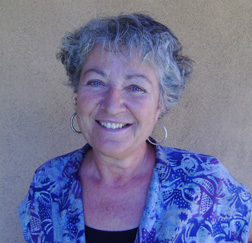 My home and studio are located in Santa Fe, New Mexico. In 1988 I attended Colorado State University and learned the ancient art of papermaking. Handmade paper is formed from the cellulose fibers of plants. The pulp I use is 100% cotton rag, prepared in a beater called a Hollander. This I pour onto a screen and press with a sponge to form sheets. When dry, I wrinkle the sheets, rip the edges and coat them with layers of acrylic paint to create an aged effect, a perfect "canvas" ready for a painting. View the video of me making paper and if you are interested an application for a papermaking class can be downloaded.

As a self-taught artist my initial images were inspired by cave and rock art, paintings and pecking called pictographs and petroglyphs made by native peoples all over the world. It is commonly believed these were used for shamanic rituals involving healing, hunting, fertility and protection. I have traveled extensively photographing these images and feel a powerful connection to the peoples who made them and the spirits that inspired them. These works are primarily southwest in nature including horses, bison and desert landscapes reflecting the vibrant red, orange and turquoise hues so prevalent here.

More recently I have started collaging strips and bits of the handmade paper onto canvas to create a scintillating texture reflecting light much like water reflects the sun. Because I live in the desert where it is extremely dry, I take every opportunity to travel to water and over the years have photographed seascapes and marveled at the magic of the sun playing on the water. It was only a matter of time before these images worked their way into my art expressing my new passion for water, boats and lush inner dreamscapes done in softer greys, blues and greens common to the northwest coast where I retreat regularly.

If you would like to keep in touch, see new work and hear about the papermaking classes feel free to contact me.